COMING AND GOING
By Ferry
Block Island Ferry/Interstate Navigation provides year-round service from Point Judith, Rhode Island (304 Great Island Road, Narragansett, R.I.) to Old Harbor, Block Island. This is the only ferry that can take vehicles to the island, and reservations for them are required (the sooner you can do this the better). Passengers do not need reservations for the roughly one-hour trip. You can find schedules and travel and reservation information for Interstate Navigation at (866) 783-7996 or blockislandferry.com.
Block Island High-Speed Ferry/ Interstate Navigation runs a high-speed catamaran from mid-May through mid-October that gets you from Point Judith (304 Great Island Road, Narragansett, R.I.) to Old Harbor, Block Island, in 30 minutes. A second high-speed catamaran offers daily service from Fall River, Massachusetts and Newport, Rhode Island to Block Island during the summer. For schedules and more information call (866) 783-7996 or visit blockislandferry.com.
Block Island Express gets you to Old Harbor in just over one hour on a high-speed catamaran from a terminal in New London (2 Ferry St., New London, Conn.) that's right next to the Amtrak train station. It runs May through September. Block Island Express also offers connections to Block Island from Orient Point, Long Island, via its Cross Sound Ferry service. The two services have matched-up schedules making it convenient and quick to take the fast ferry from Orient Point to New London and connect to the ferry to B.I., all in 2 hours and 45 minutes,including layover. Schedules and connection information for Block Island Express are at (860) 444-4624 or goblockisland.com.
Montauk Ferry runs between the tip of Long Island, New York (462 West Lake Drive, Montauk, N.Y. ), and Block Island during the summer. The trip takes just under two hours. Schedules and information at (631) 668-5700 or vikingfleet.com.
By Private Boat
Dock your own boat at one of four full-service marinas or anchor in either Old Harbor or New Harbor. For more information on marinas, moorings, and anchorage, please visit blockislandinfo.com.
By Commuter Plane
New England Airlines has provided daily scheduled air service to Block Island from Westerly, Rhode Island, since 1970. The airport (56 Airport Road, Westerly, R.I.) is just off Interstate 95 and is an easy drive or train ride from anywhere in New England. (Amtrak serves Westerly with daily trains between Washington/New York and Boston.) Flight time is 12 minutes. For schedules and information call (800) 243-2460. www.block-island.com.
By Private Plane
Block Island State Airport welcomes private prop planes on its one-lane runway. There is no control tower, but pilots should announce themselves on frequency 123.00. For more information check the Airport Facility Directory for the Northeast or call airport manager Landmark Aviation at (401) 466-5511.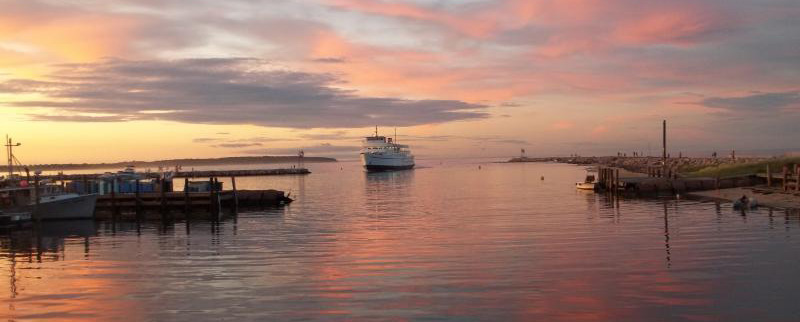 On the Island
Block Island is so manageable, you do not need a car.
On Foot. The sneaker express is an easy way to enjoy the shops, restaurants and hotels in Old Harbor. A 15-minute walk from the ferry will take you to the main beach.
On Bikes. Bicycles are an affordable and enjoyable way to explore the island. Rental stands offer bikes to fit the needs of the entire family or bring your own over on the ferry.
On Mopeds. Mopeds can be rented around the island, and can accommodate one or two passengers. Mopeds may be driven on all paved island roads, but are not allowed on dirt roads.
By Taxi. Taxi service is available island-wide. A taxi stand is located by the ferry docks in Old Harbor, and taxis regularly wait for customers at New Harbor and the airport. Most offer island tours as well.
By Car (if you really need to). Depending on your itinerary, you may or may not require a vehicle while here. In the busy summer months, keeping the number of cars on-island to a minimum is encouraged. However, the spring and fall provide comparatively empty roads.